Business Strategist
Business Advisor
Wing-Woman
Your Fiercest Supporter
Throughout my career, I have been the operational whiz across an array of industries, including; media, marketing, fashion, design, executive coaching and training, successfully growing businesses from one-woman entities to known brands.
I've also built my own successful business from scratch while raising a family. I know what it is to juggle, balance, fret, and wrestle with all the challenges you are experiencing now.
As a trusted advisor, I have proudly supported hard-working women by providing them with the tools and the confidence to achieve big goals they have set for themselves. Goals like hiring their first team member, dissolving a business partnership, taking time out of the business to have a baby, travelling around Australia with their family, making their first $1Mil. Whatever your definition of success is, I will help you get there.
It's not just about support, advice and guidance. This is about providing practical strategies, structure and connections to circuit breaking the way you do business and that relentless cycle of overwhelm and overdrive.
When I am not busy building my own business, I am social director, chef and Uber driver for my two teen daughters.
You will also find me walking our crazy cavoodle, Jett around the stunning bush and beach tracks in my local area on Sydney's northern beaches.
I fill my tank by spending time with my girlfriends over a glass of wine or coffee.
Musical theatre is my sport and one of the highlights of my week is my regular dance class.
The most defining thing about me is that I am passionate about and committed to seeing women succeed. I am a sounding board, a safe pair of hands, a voice of reason and a motivating force. I show women that it is possible to have a sustainable business that works for them – one that provides freedom, time and space to enjoy what matters most – in business and life.
Do I sound like someone you want supporting you and your business?
Let's talk – tell me what's challenging you right now.
Michelle x
Tune into the latest episode of Your Business Boost
Welcome to the fourth and final part of this limited series of Your Business Boost where we have...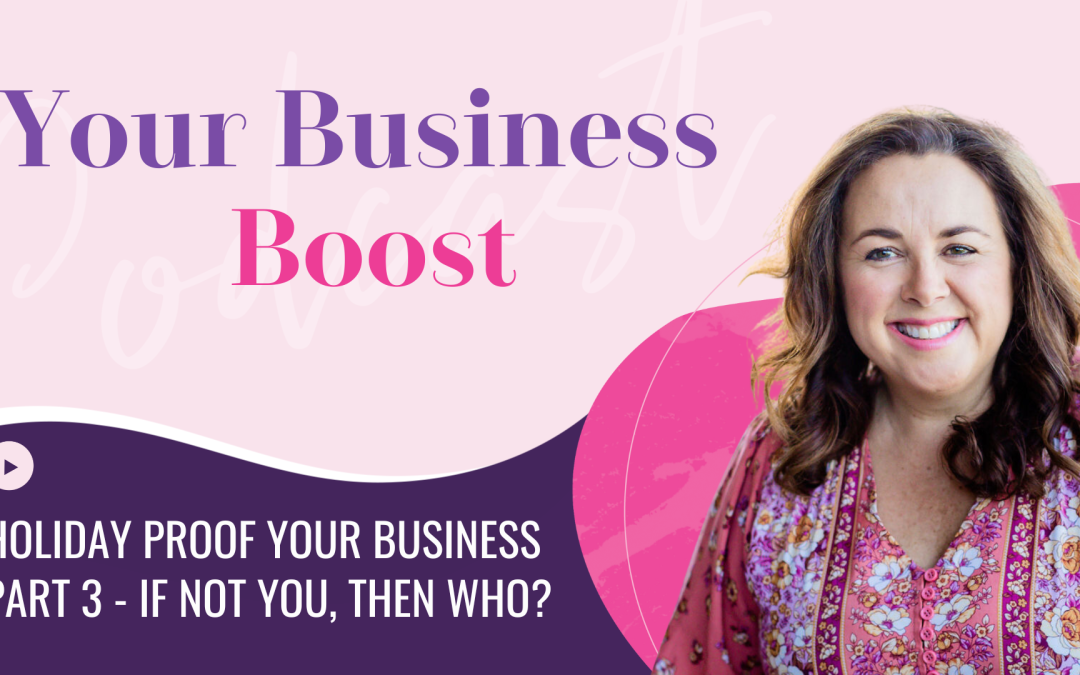 Welcome to Part 3 of this limited series of Your Business Boost where I am sharing tools to help you holiday proof your business. In this episode, we look at exactly how your business will run while you are away. We cover how to: Identify what "business as usual"...